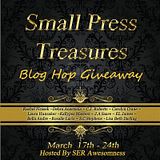 Have you ever picked up a book that just blew you away and find it is a small press publication? Well I have plenty of times. One of my favorites is Skhye Moncreif's Time Guardians from Wild Rose Press was one of these. RM Sotera's Casadega Moon from Siren was impossible to put down and everything I've read from the authors at Evernight Publishers has been top notch.
Though they are small press I found that the delivery, editing, covers and presentation were as good and in some cases even better than the large publishing companies. These may come from small publishers but the talent is big. I hope you will check more of these jewels out with this blog hop and prepare to find top notch talent. I know you will be thrilled with the authors participating in this blog hop.
I will be giving away a copy of my recent release Passion's Flight. Book two in the Dark Breed series to one lucky commenter. Yep, just comment on this blog and your entered to win. It's just that easy. My contest is available to all US, Canada and International readers.Here is the link to all those other wonderful contributors to this blog hop. Have fun and thank you for stopping by my little piece of the cyber universe.